Where to Find 4th of July Fireworks Celebrations in 2016
It's that time of year to celebrate our Freedom!  Here's a collection of Metro Denver areas that are celebrating.  Hope you get to enjoy the fireworks this year.
Please note the following rules with regard to fireworks, we must protect our homes too!
The Law: Under the International Fire Code, Section #33, (Adopted by the City & County of Denver)
3301.1.3 "possession, manufacture, storage, sale, handling, and use of fireworks are prohibited"
3301.2.2 "No person shall construct, a retail display, nor offer for sale…explosive materials, or fireworks"
3302.1 Definition-Fireworks
"Any composition or device for the purpose of producing a visible or an audible effect for entertainment purposes by combustion, deflagration or detonation…, 1.4G Fireworks, formerly known as Class C, or 1.3G Fireworks, formerly known as Class B-Special Fireworks.
If you have to light or ignite, it's illegal!!!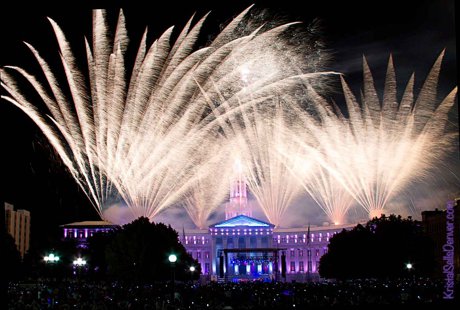 Most Independence Day Celebrations are scheduled for Monday, July 4, 2016 unless otherwise noted.
Arvada 
Arvada's annual Fourth of July celebration of the Spirit of America will continue on Monday, July 4 at the Lutz/Stenger Complex, W. 58th Avenue and Oak St. just west of Kipling, starting at 4:00 p.m. Festivities organized by Arvada Festivals Commission, the City of Arvada, KOOL105 Radio, and Apex Park and Recreation District include live music, kids' amusements, a classic car show, a military display, great food, and a spectacular fireworks display. Admission is Free. Parking will be available on a first come, first served basis (including handicapped parking) beginning at 3:00 P.M. in the Lutz and Stenger parking lots.Call 720-898-7400, or go to Arvada.org for more information.
Aurora 
The 4th of July Spectacular fireworks display, scheduled to begin at 9:00 p.m. All activities, live music and entertainment take place on Aurora's Great Lawn located on the west side of the Aurora Municipal Center, 15151 E. Alameda Parkway, on Monday, July 4. Free activities for kids abound with face painters, balloon twists, a stilt walker and craft making throughout the evening. Don't forget to tune your radios to Studio 1430 KEZW, our radio partner, where you can hear the fireworks choreographed to classic beats. Limited seating is available on the Aurora Municipal Center lawn. The fireworks also may be viewed from surrounding areas. Best viewing locations include east of Potomac Street, south of Sixth Avenue, north of Mississippi Avenue and west of Buckley Road. Visit AuroraGov.org 
Boulder 
Fireworks spectacular at Folsom Field at the University of Colorado with Ralphie's Independence Day Blast. Fireworks, choreographed to live music, begin at 9:30 p.m. Gates open at 8 p.m. and program begins at 8:30 p.m. Admission to the fireworks display is free. For more information about parking and shuttle buses, go to Boulder4thofJuly.com.   Call 303-441-3333 to report illegal fireworks in Boulder.
Brighton
Fireworks at Carmichael Park, 650 E. Southern St., on July 4. We will "Brighten the Brighton" sky at 9:45 p.m. Come at 6 p.m. and enjoy the music, concessions and other activities in the park. For more information, call the event hotline: (720) 685-7339. Learn more at BrightonCo.gov
Call the non-emergency hot line at 303-288-1535 to report illegal fireworks in Brighton, Northglenn and Adams County.
Broomfield
Great American Picnic and Fireworks Extravaganza will be held at Broomfield County Commons, located at 132nd and Sheridan on July 4. We start our celebration at 5:30 p.m. with children's entertainment and carnival games. At 7:15 p.m. enjoy a free concert. Bring your picnic dinner or enjoy a hot dog grilled to perfection for a minimal cost at the park. After the concert, at dusk, the fireworks display begins, approximately 9:15 p.m. at the Broomfield Commons. For additional information, call (303)-464-5530 or visit broomfield.org/events.
Call 303-438-6400 to report illegal fireworks in Broomfield.
Castle Rock 
A new venue for the 4th of July Fireworks in Castle Rock will be from the Santa Fe Quarry butte above Red Hawk Ridge Golf course, starting at sundown on Monday, July 4. There will not be a designated park for viewing but the fireworks should be seen from most places in Town.
Commerce City
On July 4, the fireworks will start after the Rapids game at Dick's Sporting Goods Park. Free family festivities kickoff at 5 p.m. with a kid's circus, karaoke, live 80s band, zip line, mechanical bull, climbing wall and many other activities for all to enjoy. Fireworks begin at 10 p.m. from Dick's Sporting Good Park. Tune into 92.5 The Wolf to hear music show along with the fireworks! More information available at To learn more go to ColoradoRapids.com or to the official website 4thFestColorado.com or call 303-727-3500.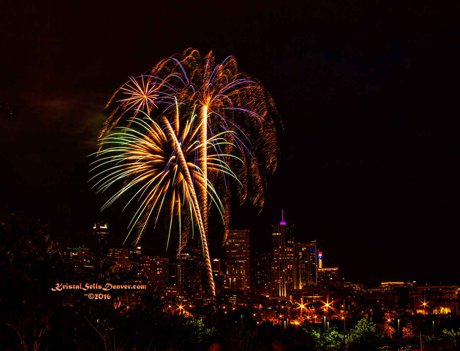 Denver 
Denver celebrates the 4th on the 3rd with its annual Independence Eve celebration at Civic Center.  There will be first come, first served lawn seating for its free concert, bring your own chairs or a blanket.  The City and County Building Light show is a 8 with the Fireworks following.
Glitch Gardens will offer a dusk fireworks display too.
Call 720-913-2000 to report illegal fireworks use in Denver.
Englewood
Fireworks display will be launched from the baseball fields at Cornerstone Park at 9:30 p.m. on July 4th and can be seen from Belleview, Progress and Cornerstone Parks. There will also be games, entertainment, food and fishing on hand starting at 11 a.m.. To see the full schedule, call (303)762-2680 or go to City of Englewood. As a reminder, all alcohol, glass containers, pets and fireworks are strictly prohibited.
Erie
Erie celebrates the 4Th on the 3Rd at Colorado National Golf Club, 2700 Vista Parkway. Activities begin at 5 p.m. Fireworks to follow at dusk
Firestone
4th At Firestone will be held on July 4th ends with fireworks launched from Saddleback Golf Course at 9:30p.m.The event will feature a parade with over 60 entries, vendor and craft exhibitors. Free live music, prizes, and one of the best fireworks displays in the area by Tri-State Fireworks. For more information call 303-833-3291 or go to http://www.ci.firestone.co.us/.
Glendale
Fireworks are scheduled for FRIDAY, July 1rd at 8 p.m.  As in years past, the fireworks will be launched from Creekside Park at E. Virginia Ave. and S. Clermont St. Best viewing is at Cherry and Exposition. Come early to play in the new park just south of the Infinity Park stadium; and then walk up Cherry Street to snag your favorite viewing location because views of the fireworks will be limited from Infinity Park South. Call 303-759-1513 or go to the city's website for more information.
Golden
Fireworks begin around 9:30 p.m. on July 4 at Lions Park, located 10th and Maple Streets. The Golden Lions Club will sponsor the day's activities at Lions Park. Park in the outlying parking lots to avoid the congestion on 10th St. after the fireworks. Entertainment will be provided all day from various bands. Drawings for door prizes, children's rides and food will also carry on throughout the day. For more information go to GoldenLionsClub.org or call the Golden Chamber of Commerce at 303-279-3113.
Lafayette
This wonderful July 4th celebration is free to the public and will take place from 4 pm – 10pm at Waneka Lake; 1600 Caria Dr. in Lafayette. The celebration will include free kid's activities, live entertainment, food concessions, lawn games and fireworks at dusk. Donations are being accepted for the fireworks show, contributions are trickling in but we have a long way to go. There are many ways that you can donate. Visit LafayetteColorado.com or call at 303-666-9555.
Call 303-665-5571 to report illegal fireworks in Lafayette.
Littleton 
Celebrate Red, White and You on Monday, July 4, 2012 at Clement Park, 7306 W. Bowles Ave. from 5 p.m. to 10 p.m. Fireworks at 9:30 p.m. 
The 20th annual Fourth of July Family Festival and Fireworks Show will be held on Monday, July 4, 2012 at Belleview, Progress and Cornerstone Parks near the intersection of Belleview and Windermere. With an emphasis on a safe night for families, there will be strict enforcement of laws prohibiting alcohol and personal fireworks. Pets are strongly discouraged. Learn more at Littletongov.org.
Lone Tree 
Lone Tree's Independence Day Celebration:
The City of Lone Tree's Independence Day Celebration will continue as planned on July 4th beginning at 3:00 pm with the children's free bike decorating activity followed by the bike parade at 4:00 pm.
The event officially opens at 4:00 pm at Sweetwater Park and includes musical entertainment from Raising Cain and The Six Million Dollar Band and a large amount of free activities including quad bungee trampolines, climbing walls, face painters, caricature artists, airbrush artists, inflatables, clowns, a petting zoo and the popular Celebration Hat making activity. Food vendors will be onsite to sell refreshments. All activities will conclude in the park at 8:30 pm.
Independence Day Wristbands Required:
Due to safety concerns associated with overcrowding at Sweetwater Park, wristbands are still required to enter the event. Each household in Lone Tree and Acres Green can pick up four (4) wristbands for free and with a $5 contribution to Hearts Across the Miles an additional four (4) wristbands may be purchased. Hearts Across the Miles is a local nonprofit who provides support for American troops overseas.
Wristbands are available for collection and purchase at the Lone Tree Arts Center, 10075 Commons Street, Lone Tree during the following dates and times: visit the City's website at  www.cityoflonetree.com [http://www.cityoflonetree.com or call 303-708-1818.
Louisville
Fireworks on July 4 at Coal Creek Golf Course, 545 West Dillon Road. There's no parking at the golf course. Free shuttle from Louisville Recreation Center and Home Depot. Call 303-335-4536 or go to http://www.ci.louisville.co.us for more information.
Northglenn
Fireworks display at 9:30 p.m. over Webster Lake at E.B Rains Jr. Memorial Park, 117th Avenue and Community Center Drive (S.E corner of 120th and I-25.) Scheduled activities include a pancake breakfast, a bake sale, a kids' fun area with inflatables and a military recognition. Pedal boats will be available for rent throughout the day and during the fireworks show. Call 303-450-8713 for more information or go to Northglenn.org.
Parker 
Parker's "Let Freedom Sing!" event takes place 6-10 on July 4, free bounce houses and inflatable activities, local food, live music and the biggest and best fireworks display to date around 9:30 at Salisbury Park, 11920 Motsenbocker Road Visit Parkeronline.org
Thornton
Fireworks display at Carpenter Park at East 108th Avenue and 11000 Colorado Boulevard at 9:35 p.m. Events prior to fireworks include walk-around entertainers, food and the Longmont Symphony Orchestra at 8 p.m. and a parachute jump just before fireworks go off. Call 303-255-7800 or CityofThornton.net for more information.